---
---
Environmental setup (a color and recognition)
A display color is set up. Recognition is set up.
All the figures used by a help or explanation with a manual are standard color setup.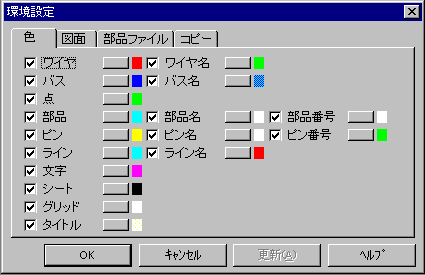 Color change button
It is the button which changes an item color.

Recognition check box
They are a display of an item, and the check box of recognition.
If a check is turned OFF, the stripes of a display and the printing will not be carried out.
If it changes into a gray state, although display and printing are carried out, they will not carry out the stripes of the recognition.
Usually, the check of all items is turned ON.
---
Schematic Editor D2CAD
- Copyright &copy 1996-2006 YAN -
E-Mail

support@yansoft.com
This page is translated with translation software from Japanese.